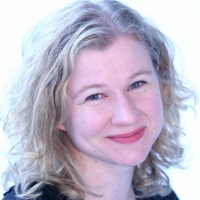 Written by: Catherine Trieschmann Directed by: Mark Clements
When Rafael and Camila Hernandez move in downstairs to help Joanne with her elderly father, Joanne breathes a little easier. She needs their help, and they need jobs. But she can't anticipate the complications that arise when "the help" starts to feel like family…and act like it. A brilliantly funny and provocative new piece by one of today's hottest playwrights, it's an empathetic but searing examination of boundaries, power, privilege, and fear in a single backyard.
"Trieschmann…has the courage to ask tougher questions."— Milwaukee Journal Sentinel
"Trieschmann's writing is taut and laced with irony….a big accomplished writer's voice."— The New York Times
Cast: Hollis Resnick, others TBD
Written by: Jeffery Hatcher Directed by: Eric Simonson
The General is under a lot of pressure. His mistress just left him, a coup to overthrow him is being plotted by his closest aides, the country is about to be invaded, and he has to finish the final book of his multi-volume epic novel. Time to kidnap a writer who can do it for him.
Jeffery Hatcher
BROADWAY: Never Gonna Dance (book). OFF-BROADWAY: Three Viewings and A Picasso at Manhattan Theatre Club; The Government Inspector at Red Bull; Scotland Road and The Turn of the Screw at Primary Stages; Lucky Duck (book w/Bill Russell) at the New Victory; Tuesdays with Morrie (with Mitch Albom) at The Minetta Lane; Murder by Poe, The Turn of the Screw, and A Connecticut Yankee at King Arthur's Court at The Acting Company; Ten Chimneys at Peccadillo; Neddy at American Place; and Fellow Travelers at Manhattan Punchline. OTHER PLAYS/THEATERS: Work Song (with Eric Simonson), To Fool the Eye, Sherlock Holmes and the Suicide Club, Jeffrey Hatcher's Hamlet, The Scarecrow and His Servant, Dr. Jekyll and Mr. Hyde, The Critic, Holmes and Watson,and others at The Guthrie, Old Globe, Yale Rep, The Geffen, Seattle Rep, the Huntington Theater, Shakespeare Theatre, Cincinnati Playhouse, Cleveland Playhouse, South Coast Rep, Arizona Theater Company, San Jose Rep, The Empty Space, Indiana Rep, Children's Theater Company, History Theater, Madison Rep, Intiman, Illusion, Denver Center, Oregon Shakespeare Festival, Alabama Shakespeare Festival, Milwaukee Rep, Repertory Theater of St. Louis, Actors Theater of Louisville, Philadelphia Theater Company, Asolo, City Theater, Studio Arena, and dozens more in the U.S. and abroad. FILM/ TV: Stage Beauty, Casanova, The Duchess, Mr. Holmes, and episodes of Columbo and The Mentalist. GRANTS/AWARDS: NEA, TCG, Lila Wallace Fund, Rosenthal New Play Prize, Frankel Award, Charles MacArthur Fellowship Award, McKnight Foundation, Jerome Foundation, Barrymore Award Best New Play, and 2013 Ivey Lifetime Achievement Award. He is a member and/or alumnus of the Playwrights' Center, the Dramatists Guild, the Writers Guild, and New Dramatists.
Cast: Steve Pickering, Chris Henry Coffey, Alan Kopishcke, Mark Moede